Push Industries Plush Service & Tuning
If you are looking for the ultimate suspension exotica then it has to be the Push ElevenSix coil shock. This shock rides like no other on the market with a damper tune selected specifically for your weight and your bikes leverage rate meaning you'll get the perfect ride feel every time!
Exquisite levels of machining precision and the highest quality materials used in every component, Push really do make a damn fine shock!
Hydrualic Bottom-Out Control
One of the key feature of the new ElevenSix shock is the Hydrualic Bottom Out Control system. This secondary shaft piston provides large increases in compression damping during the last 15% of shock stroke. Because it's completely independent of the main damping piston there are no compromises in the shocks performance throughout the stroke.
Say goodbye to harsh bottoming as the new Hydraulic Bottom Out Control allows you to ride harder and go bigger with a smooth and supportive end of stroke feel.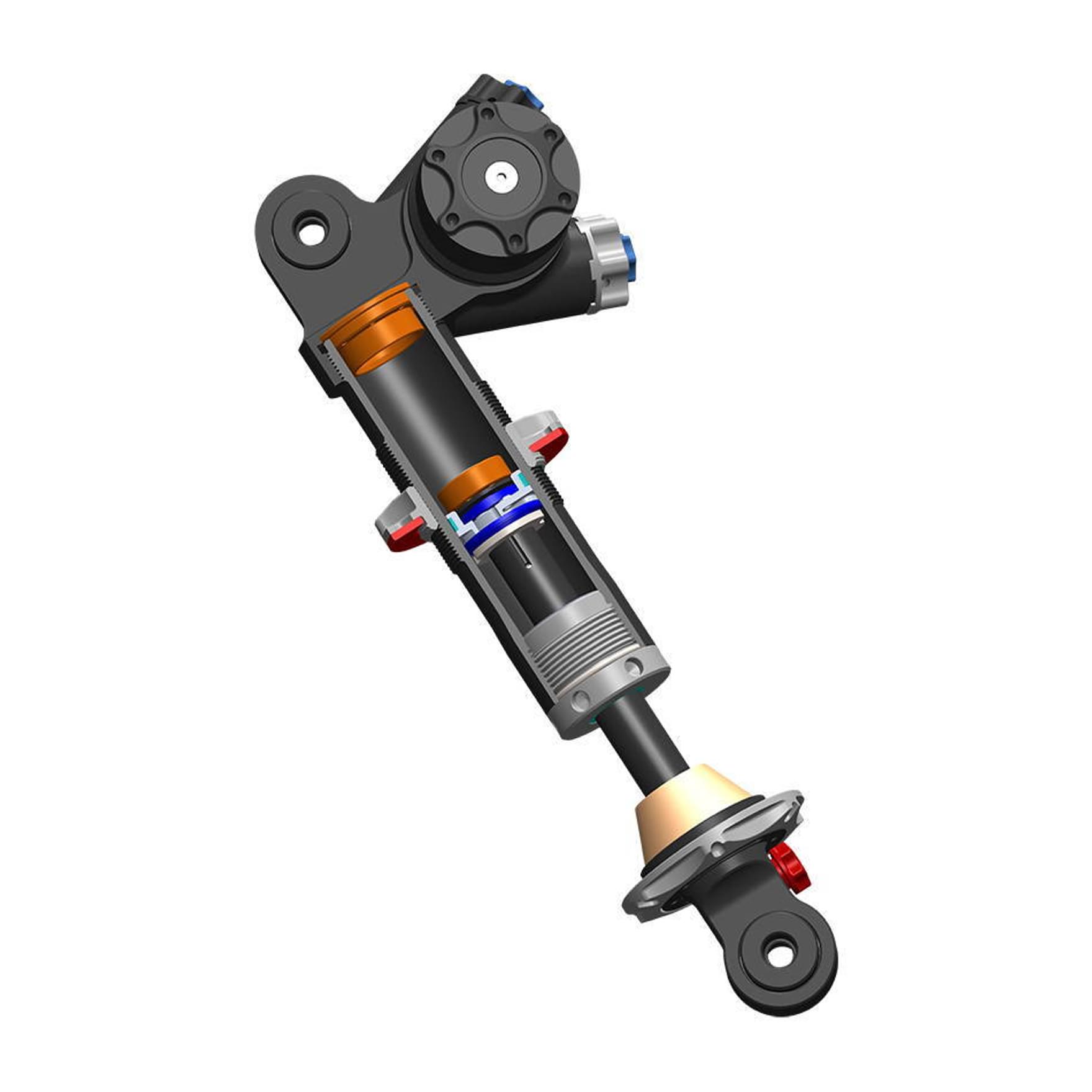 Hypercoil Progressive Spring
Working with HyperCo, a world leader in performance racing springs, ensures that only the finest materials and most advanced spring designs are utilized for each ELEVENSIX shock. Offered in 25lb/in increments, each HyperCoil is specifically designed to be the lightest and most accurate MTB spring available today. The exclusive OBD design allows for perfect positioning of the end coils for an extremely linear compression characteristic that is not only great for performance, but keeps the spring from making noise, rubbing, and binding on the shock body.
To compliment the linear HyperCoil spring, progressive open cell rod bumpers are specifically engineered to control ending stroke progression and spring rate, giving riders plush initial travel with plenty of ramp up to control the handling of large jumps and drops.
As a rear shock spring is compressed the ends rotate slightly causing binding and a loss of small bump sensitivity in traditional MTB shocks.
Each ELEVENSIX however, features our exclusive PTX spring bearing and 360 degree captured spring retainers to ensure that this rotation happens friction free leading to increases in small bump sensitivity and traction.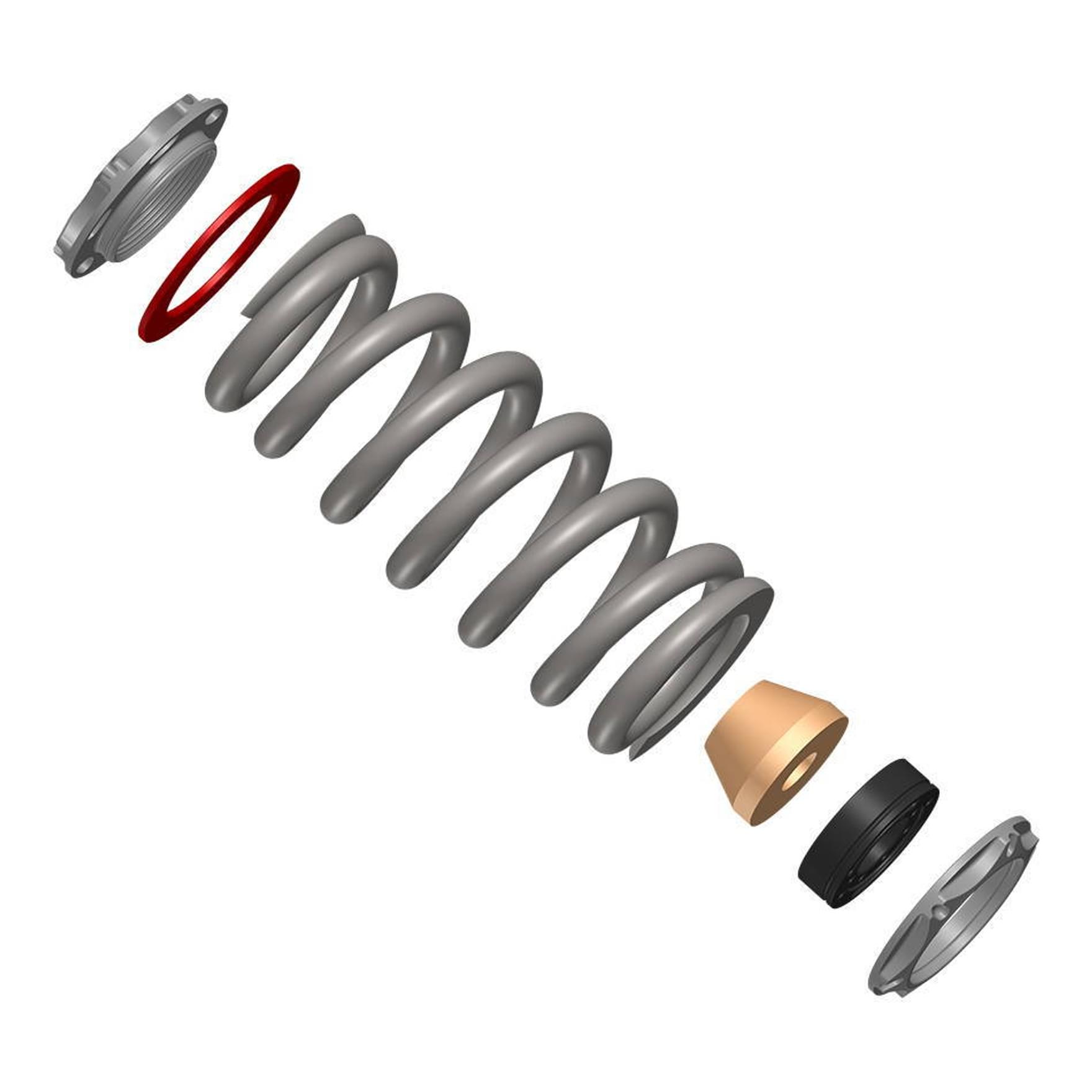 Dual Compression Valves
The Patented Dual Overhead Compression Valve System on all Push ElevenSix shocks allows you to dial in two seprate sets of compression settings.
The light grey valve set is tuned to be adjusted for descending giving you both high and low speed compression adjusters and then the dark grey valve set is tuned to give you a much firmer platform for trail or climbing charactersists but still has dedicated high and low speed adjustments.
Just use the toggle switch to move from one valve set to the other!
All of this adjustment also now comes easier than ever. The new ELEVENSIX features completely sealed adjusters that are re-shaped, larger in size, and feature an internal bushing system to make them easy to turn.
The ElevenSix now has an increased range of adjustment to help you get the perfect damping feel.
25 Clicks of External Low-Speed Compression Adjustment
25 Clicks of External High-Speed Compression Adjustment
18 Clicks of External Low Speed Rebound Adjustment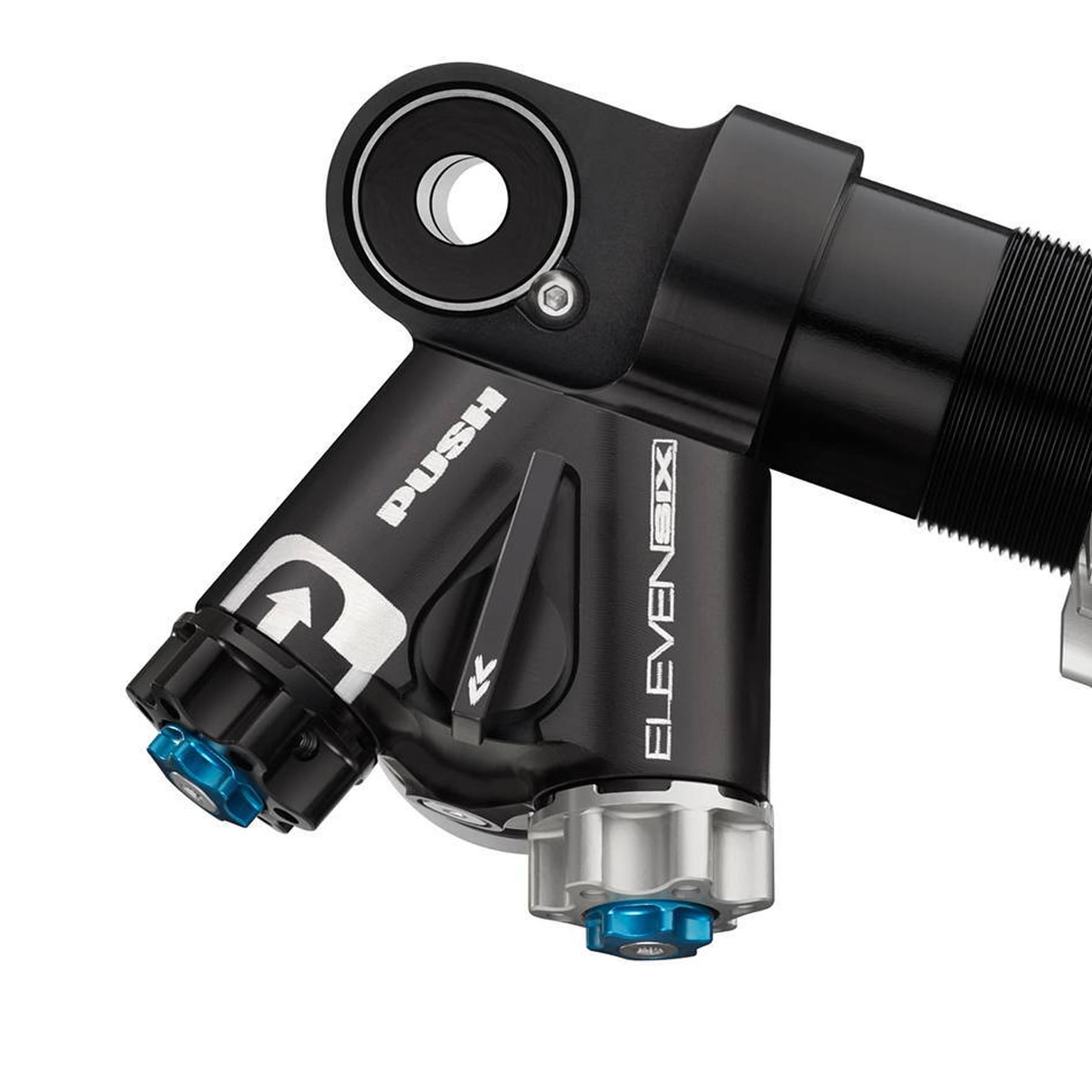 Spherical Eyelet Bearings
Decreasing friction directly leads to increases in small bump sensitivity and traction providing a more comfortable ride. PUSH precision-ground and hardened spherical ball bearings eliminate both rotational friction from linkages as well as shaft binding friction caused from flex under load. Quickly realizing that traditional off the shelf bearings were not up to the task, PUSH engineers went to work developing a specific system to address both the harsh riding conditions as well as high loads with unparalleled durability.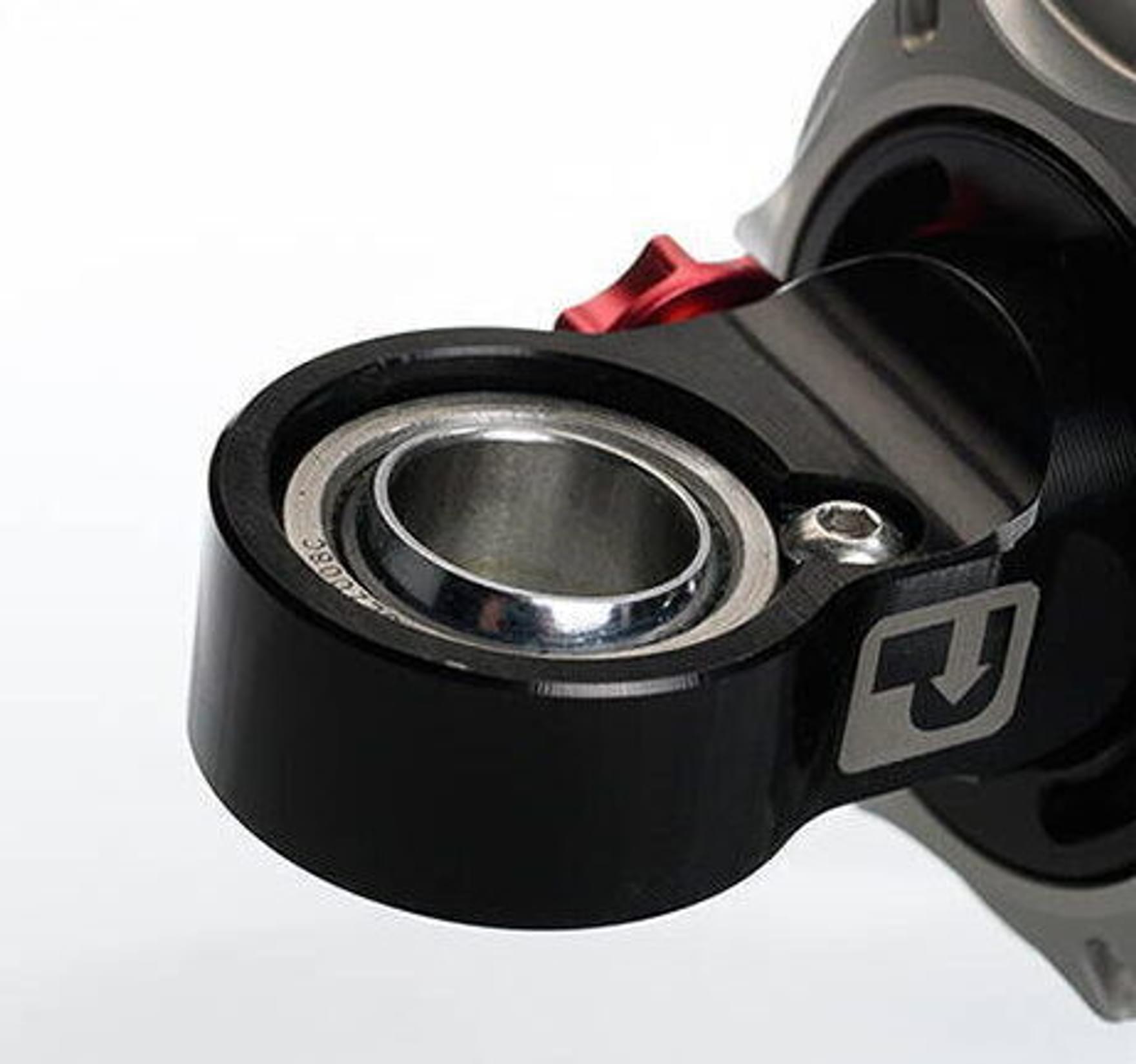 4 Port Progressive Damper Piston
The damping piston found in the all new ELEVENSIX features completely redesigned compression and rebound port profiles, providing smoother flow and an increase in damper response leading to a more controlled ride. The new piston assembly also features reconfigured progressive compression and rebound valving stacks providing less damping on small and high frequency bumps, while providing greater damping on larger impacts and g-outs.
This new design delivers just the right amount of damping to maximize both comfort and control.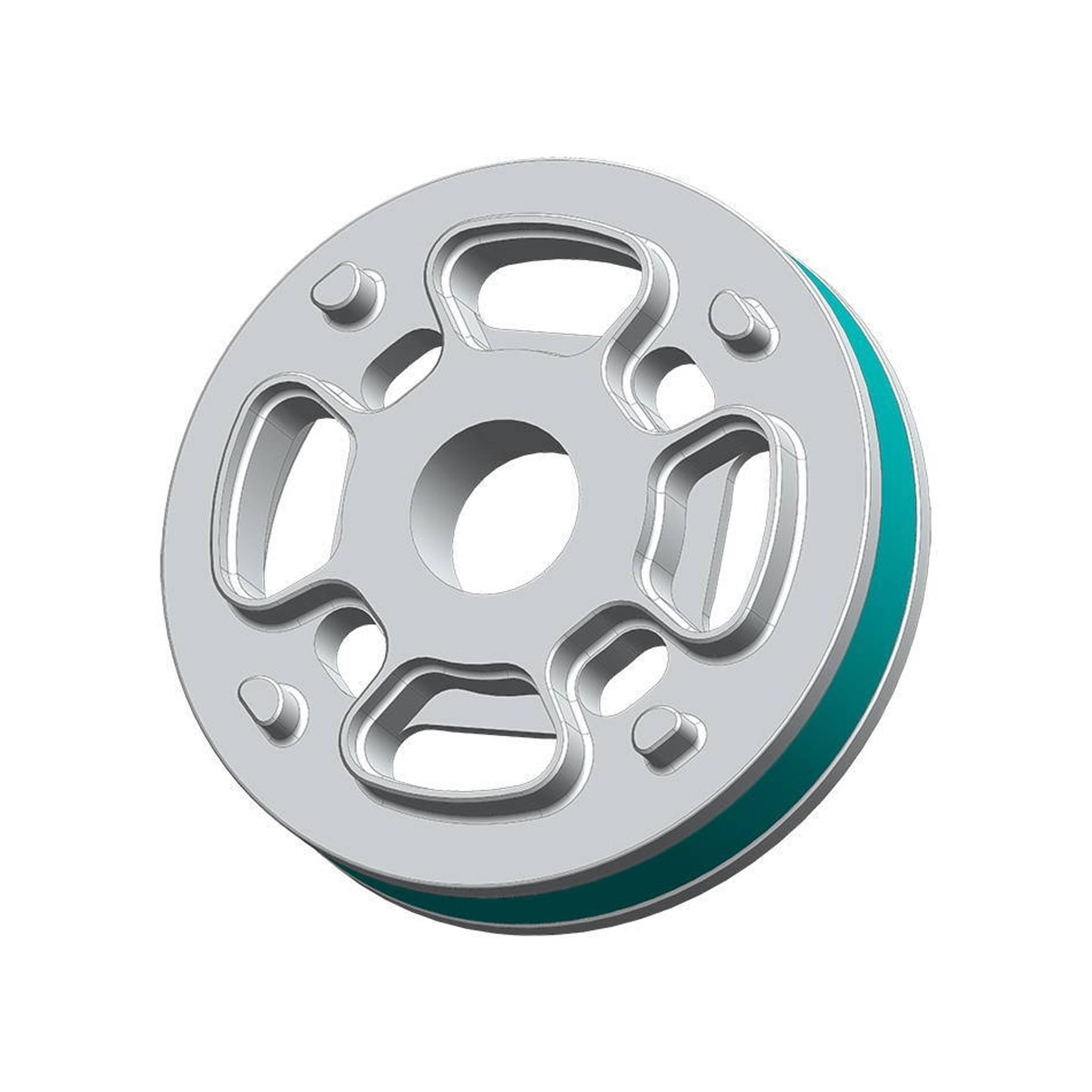 High Volume Low Displacement Internal Floating Piston
In order to ensure consistent traction and bump eating performance even on the most demanding descents, the ELEVENSIX features a large volume reservoir and IFP. The large area and unique seal gland design of the IFP allow for minimal movement in high frequency bumps mimicking the low friction characteristic of a bladder system and increasing traction without the negative attributes such as gas migration and bladder deformation from heat.